Provoke Your Business with PENNY PROBID, online Penny Auction Script to aggravate Your Business in e-Commerce World.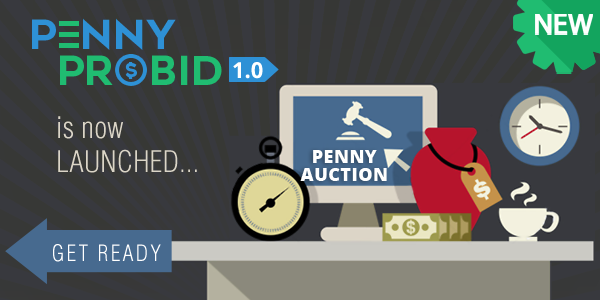 Penny ProBid, best auto bidding and penny bidding software is out now from Maventricks Technologies.
A penny auction is a type of auction script where users pay to participate. Users generally pay for each bid placed on auction items.
The most appealing feature of penny auctions is that the auctions typically have no or a very low reserve (minimum closing price). Penny Auction has a possibility to get huge savings on items if the auctions end quickly.
How do Penny ProBid  works?
User's Role:
Bidders purchase bundles of bids. Single bid amount can be customized on the admin panel. Each bid gives the bidder the ability to place one bid on one auction item.
As each bid is placed, time is added to the auction clock, this allows other bidders to jump in and bid as well. As bids are placed, the auction closing price also increases as per auction item's settings.
When the clock runs out, the last bidder wins and then purchases the auction item for the final closing price.
Seller's Role:
Sellers can directly signup into the Site and post products for auctions with free of cost.
They can customize their auctions i.e Start time, End Time, Starting Price of the Auction, shipping cost etc.
Seller can earn amount by Withdrawal request  to the site admin after the Auction ends.
Features
LIVE Auctions
Online bidding and playing on all LIVE auctions, an innovative concept to buy high value products.
Bid Butler (Auto Bidding)
a highlighted concept of automatically placing bids if existing bid is beaten.
Codeigniter 3.1.9
PennyPro BID developed with latest version of CODEIGNITER 3.1.9 which generate SEO friendly URL's and lot more features.
PHP 7 Compatible
As the script developed with the latest codeigniter vers ion, it is more compatible with the PHP 7 version.
Responsive Themes
Mobile Friendly Themes on front end & admin panel so that users can manage their operations via mobile devices.
Paypal Payment Integration
PAYPAL, a secure payment gateway integrated for the payments for the user to buy bids and to pay for the winning BIDS.
Transactions Statement for Sellers
User transactions can be overviewed on the admin panel i.e. Auction payment and Bid Purchase by the user on the front end.
Invoice management
Invoice management on the admin panel and front end as well for the users to pay for the Auctions they are winning.
Multiple Shipping Address Management
Users can manage multiple Shipping address for their profile.
"Become a Seller" in Front End
Users can register as a seller and can post their products for Auctions.
Email Notifications
Immediate Email Notifications for the all the progress on the Auction site for both Sellers and Users.
Time Based Auctions
Time based auctions manageable from the admin panel. Admin can change the each bid timer while placing the bids and Bid end time increase on each bid.
Flexible bid amount Settings in Backend
Amount per Bid can be set on the admin panel so that users can purchase BIDS.
User friendly CMS / Backend
User friendly and easily customizable admin panel for all the static pages in the front end.
Free Bids on First Time Registration
Users can get the Free Bids on first time registration and number of Bids can be edited on the admin panel.
Past / Finished Auctions Overview
Penny ProBID shows all the previous completed / Closed Auctions to the user with the bid Amount won and Auction winner as well.
Bid Multiplier
a feature that includes in penny pro bid that reduces 'n' number of bids on single click and that can be controlled on the admin panel and on front end as well while adding auctions.
Full WYSIWIG Editor
Implemented with Full WYSIWIG editor whereever needed on the admin panel.
Withdrawal Request for Sellers
Sellers can send withdrawal request to the admin for the amount in their account.
Multi-language Support
Penny ProBID supports French, German, Spanish, Japanese and more Languages on single platform.
You can purchase script here https://www.maventricks.com/pennyprobid
Please look into the Demo of Penny ProBid

for the Front Demo at http://maventricksdemo.com/pennyprobid

for the Backend Demo at http://maventricksdemo.com/pennyprobid/index.php/administration
Please contact us via email to [email protected] or Skype us at sathick to get free upgrades and more details.