We are pleased to announce the update of MERCATO version 2.1.0,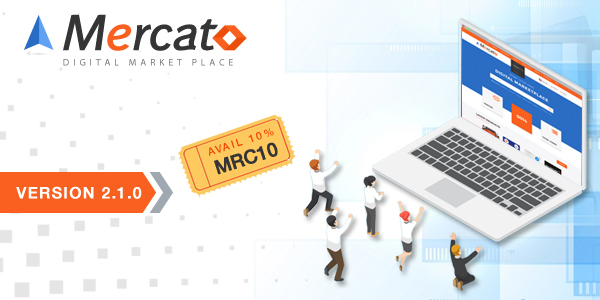 Some additional Features of Mercato 2.1.0 are,
PAYPAL Payment settings editable on the admin panel.

Multiple Currency management on the Admin panel.

Updated and Bug Fixes on ADVANCED SEARCH option.

Comments Module controlled by the admin on the admin panel.

Withdraw Limit can be set by the site owner on the admin panel.

Some Bug fixes and also made script lightweight.
Please follow the link https://www.maventricks.com/mercato/ to know the pricing and features of latest version of MERCATO.
Please contact us via email to [email protected] or Skype us at sathick to get free upgrades and more details.
Please checkout our demo @ http://maventricksdemo.com/mercato/
Grab 10% off on the MERCATO packages. Please use this coupon code MRC10 at checkout to get this lighting deal.