In addition to the existing features of MERCATO 1.2, we have enriched the features to make the script more users friendly, elegant and more precise.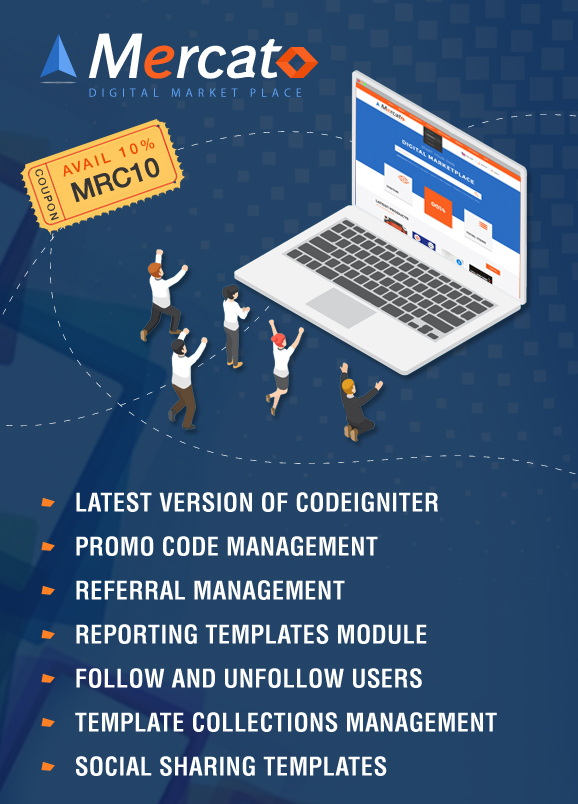 Added features of Mercato are
Updated VERSION of codeigniter.
PayPal Payment gateway Integration.
Promo code Management.
Search template Using Tags.
Reporting Templates Module.
Templates Collections Management.
Follow and UnFollow Users.
Social Sharing Templates
Instant Notifications.
Invoice Management.
Template Comments Module.
Referral Management
Latest VERSION of codeigniter:
MERCATO 2.0 developed with latest version of CODEIGNITER 3.1.9 which generate SEO friendly URL's and lot more features.
Paypal Payment Integration:
PAYPAL, a secure payment gateway integrated for the payments for the user to subscribe the package and purchase templates..
Promo Code Management:
Promotional codes allow administrator to market the products on your e-commerce website by providing users with a discount on certain templates.
Search Templates Using Tags:
Like products can be managed by the user for the future references similar to the e-commerce websites like Flipkart, Amazon, e-bay etc..
Reporting Templates Module:
Mercato implements an option to set the title and meta description to their products. Easy to change the site title and meta description for all pages as per your preferences.
Template Collections Management:
An option to make collections of the favorite templates for each user. Collections can managed and edited by administrator.
Follow And Unfollow Users:
MERCATO developed the module to follow and unfollow users like Facebook, so that New Template notifications sent to the users following the author.
Social Sharing Templates:
Developed with Sharing the particular template through sharing apps such as Whats App, Twitter, Facebook,LinkedIn, Google Plus etc.
Referral Management:
Referral Management works by creating affiliate links for each user. An option to earn commission for each new user Signup and Product Purchase.
Instant Notification:
Facebook kind of instant notifications will give the users get all the important notifications seamlessly while using the plaform.
Invoice Management:
Invoices management on the admin panel and front end as well for the users on all the template purchases.
Portfolio Management
Effective way to manage portfolio for user is integrated on MERCATO 2.0
Template Question Module:
MERCATO implements Question Module for each template, so that user can ask any Question regarding the Template. Email is sent to each user who purchase the template while posting the Question.
Please follow the link https://www.maventricks.com/mercato/ to know the pricing and features of latest version of MERCATO.
Please contact us via email to [email protected] or Skype us at sathick to get free upgrades and more details.
Please checkout our demo @ http://maventricksdemo.com/mercato/
Grab 10% off on the MERCATO packages. Please use this coupon code MRC10 at checkout to get this lighting deal.