A new version of JMS – Journal Management System i.e. 4.0 is released with lots bug fixes and cool new features.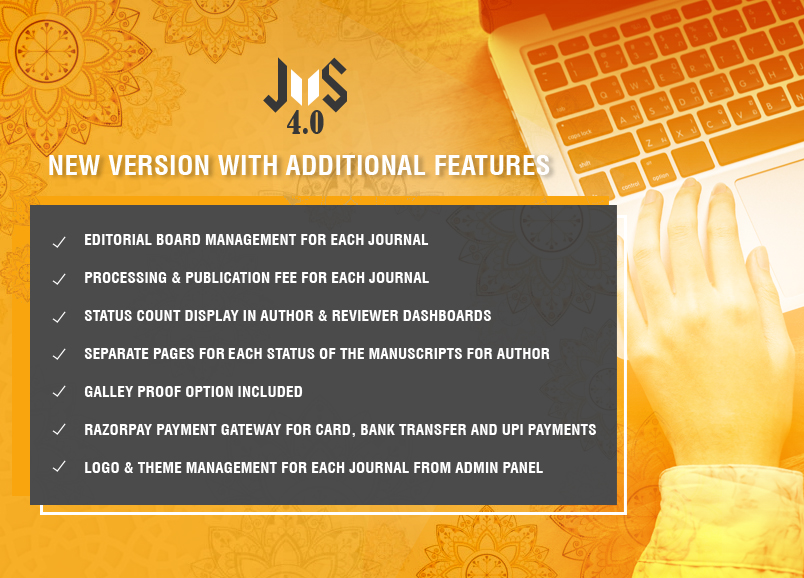 JMS 4.0 new features:
Editorial board members management for each journal from admin panel.
Adding Processing & publication fee for each journal in journal add page.
Adding Journal logo & theme for each journal from admin panel.
Separate pages & tabs for all the statuses of the manuscripts to easily differentiate them on Author dashboard
Showing count of the manuscripts for each status on Author Dashboard
Adding galley proof status in manuscript.
Razorpay payment gateway for multiple payment options like UPI, credit card and bank transfer
Change log:
Changed the paypal image path in payment page
Paypal return error in processing fee payment page is fixed
In admin panel, add text editor to title field in edit manuscript page
Reviewer journal ID not stored during registration
Reviewer edit profile for journal ID not stored
Manuscript Review Edit page fixed
Pagination enabled in Archives section of the journal dashboard
Added Text editor in email template edit page
Fixed the Manuscript id missing deny review email template
Removed html tags from citation section of the view manuscript page
Fixed the data table not shown properly in Publication tab in profile page
Subscriber paypal Payment error is fixed
Subscriber date format is not shown properly
Please check out our upgrade below,
Front End Demo
http://maventricksdemo.com/JMS/
Admin Panel Demo
http://maventricksdemo.com/JMS/index.php/administration/login
Please contact us via email to [email protected] or Skype us at sathick to get free upgrades and more details.
Grab 10% off on all the three JMS 4.0 packages. Please use this coupon code JMS10 at checkout to get this limited period offer.