Greetings from Maventricks Technologies!!!
Happy to announce the version upgrade of our premium product BIDONN VERSION 2.1.5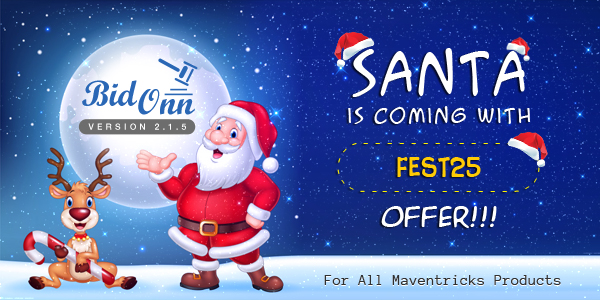 Bidonn Version 2.1.5 upgraded with some Bug fixes
Some Fixes on the advanced Search Functionality on both Jobs and Employee, that make script lightweight
Upgraded Internal Messaging System
LIVE chat updated for Codeigniter latest version
Bug Fixes on rating Functionality
Some Security Updates
Maventricks Support is keen and happy to help verify bugs. We are still working to improve the product's feature more and more better and we offer an extensive support for our clients. Please provide your valuable feedback here [email protected]
For more information, please check out https://www.maventricks.com/bidonn/pricing.php
You can also download the Bidonn basic free version which has all the necessary features to run a reverse auction website.
Please look into the BidOnn v2.1.5 demo at https://maventricksdemo.com/bidonn_4.0/
Please contact us via email to [email protected] or Skype us at sathick to get free upgrades and more details.
Grab 25% off on the BIDONN 2.1.5 package. Please use this coupon code FEST25 at checkout to get this limited period offer.